Text by AKI INOMATA(@a_inomata)
Japanese article→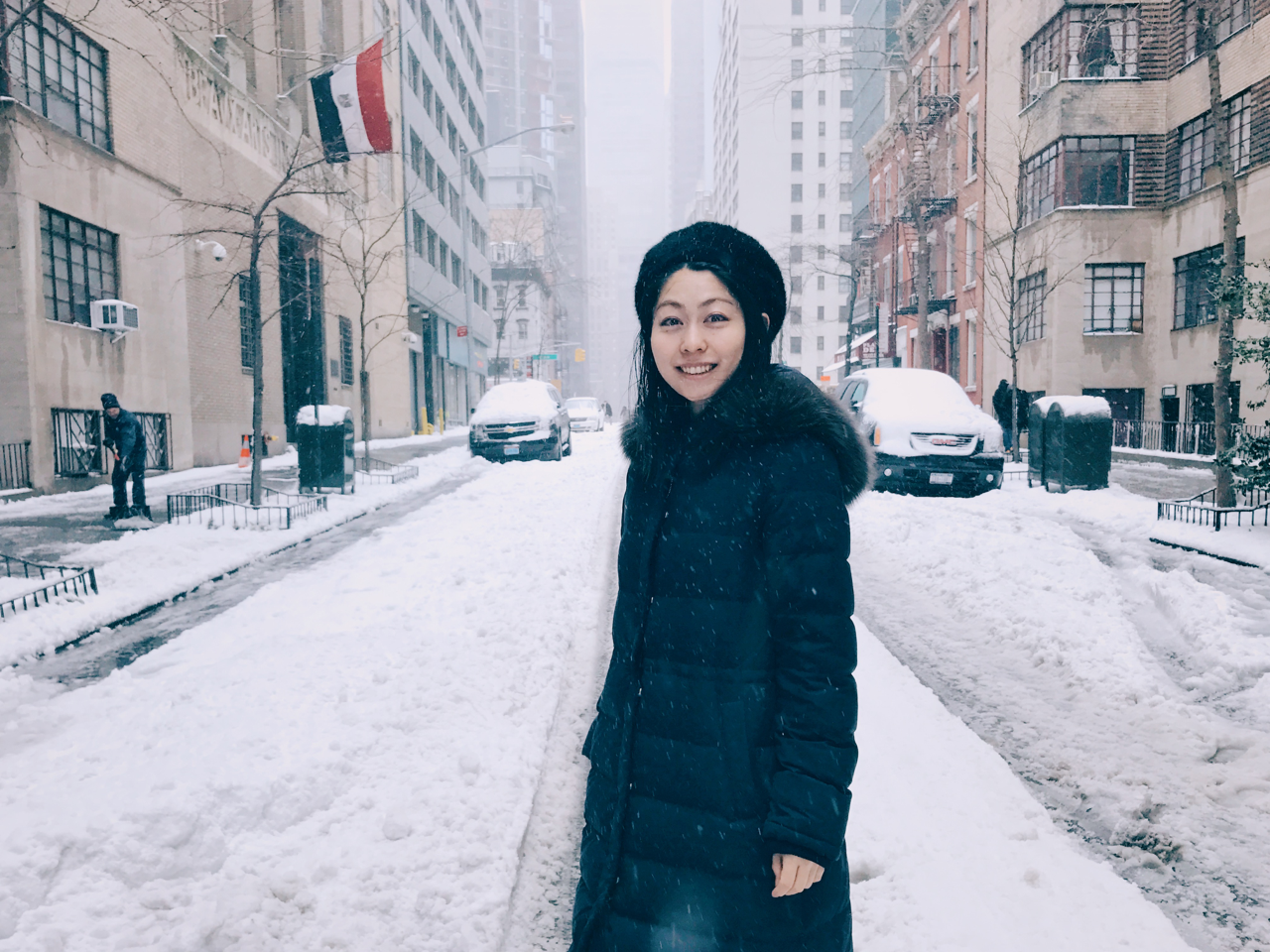 I've never seen such heavy snow for years.
I came to New York and started living here at the end of February. It's already mid-March, but the City is still frozen, high around 0℃(33F)or maybe lower.
While snow keeps storming outside, I'm writing this essay in my apartment in Manhattan.
Due to this super heavy snow, the subways have been stopping since 4pm. Stores, offices and museums are closed. For the first time in those two weeks, I have to work at home.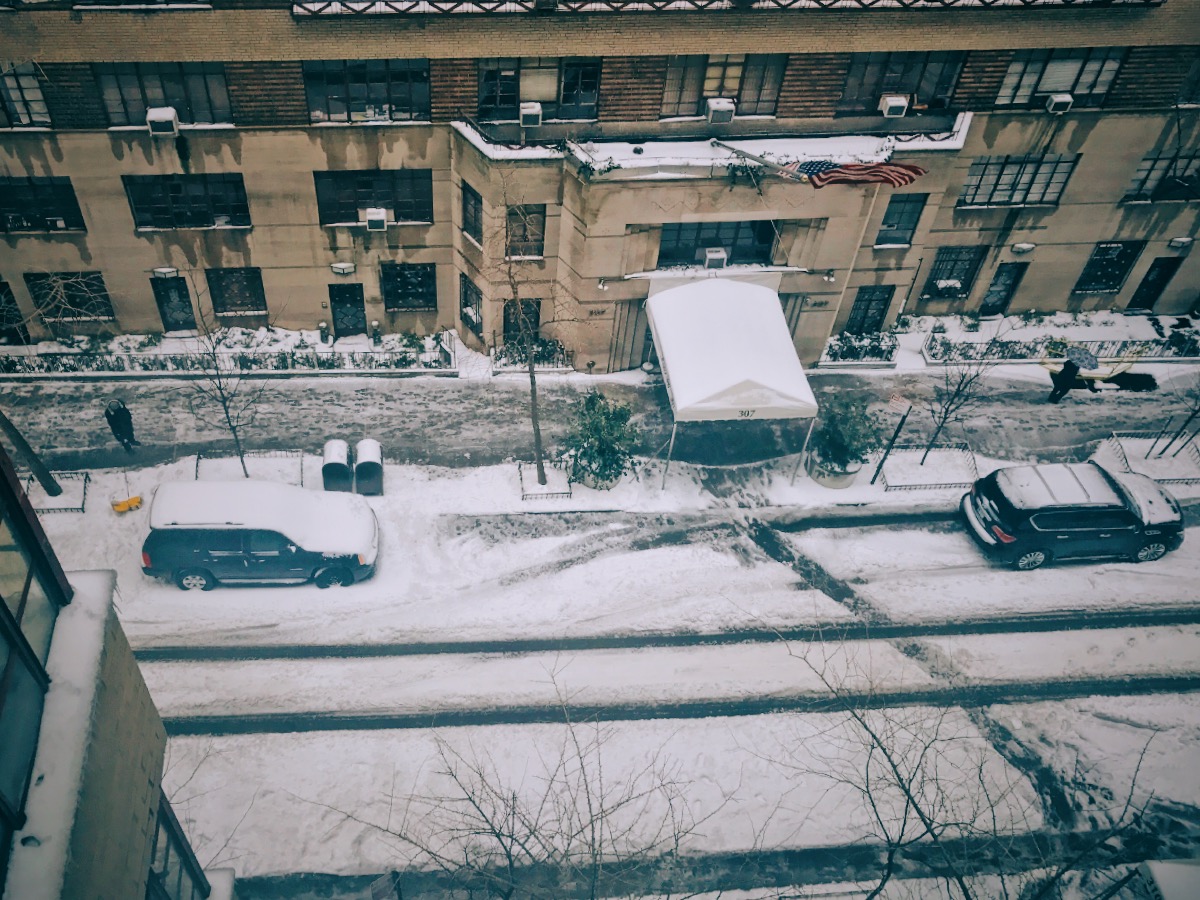 My current residence is in Midtown East, very close to United Nations, about 10 minutes walk from the Grand Central Station. The terminal, where many trains to "Upstate" come and go, is pretty much like Japan's Tokyo Station.
This neighborhood is really convenient and has great access to anywhere, and, of course, the road is always jamming. Every morning I've got be waken up by inconsistent and loud horns coming from countless of cars on streets and avenues. I had never been exposed in "spell" of such noisy sounds before I started living in this city.
Yes, it is "really literally noisy."
Here below is a summary of my profile:
Hello, I am AKI INOMATA, an artist.
My work is produced by cooperative work with creatures.
For example, I made a transparent shell, which is modeled on a city, for a hermit crab, and
I went to learn French with a parakeet or exchanged my hair for dog's hair, and more…
By looking us through creatures, I have raised doubts about the city and social system where we live, and tried to cross the border of countries, language barriers, and even the relationship between a person and a pet.
For more details : AKI INOMATA Official Website
---
Many contemporary artists look New York City as their destination. Of course, I am one of such artists.
The City, crowded with not only big and famous museums/galleries, but also artists from all over the world, is the most competitive battle field for contemporary artists.
Even artists not well known in Japan could exhibit their works and get recognized here. As a contemporary artist, I had wanted to be a part of such exciting art scene of New York. In 2011, at age of 27, living in Japan, I decided to go to New York and started planning to move into the City.
Actually, people would have recognized me as not a contemporary artist, but, I would say, just an embryonic artist or an artist "wannabe." No matter what I was, in the summer of 2011, I visited New York with my classmates from college and checked out around the City's art field and scene.
New York has many artist-in-residence programs. One of them is called ISCP (International Studio & Curatorial Program), which I had been dying to get in since I was a college student.
My friends and I made an appointment with the program office and visited there during our New York tour.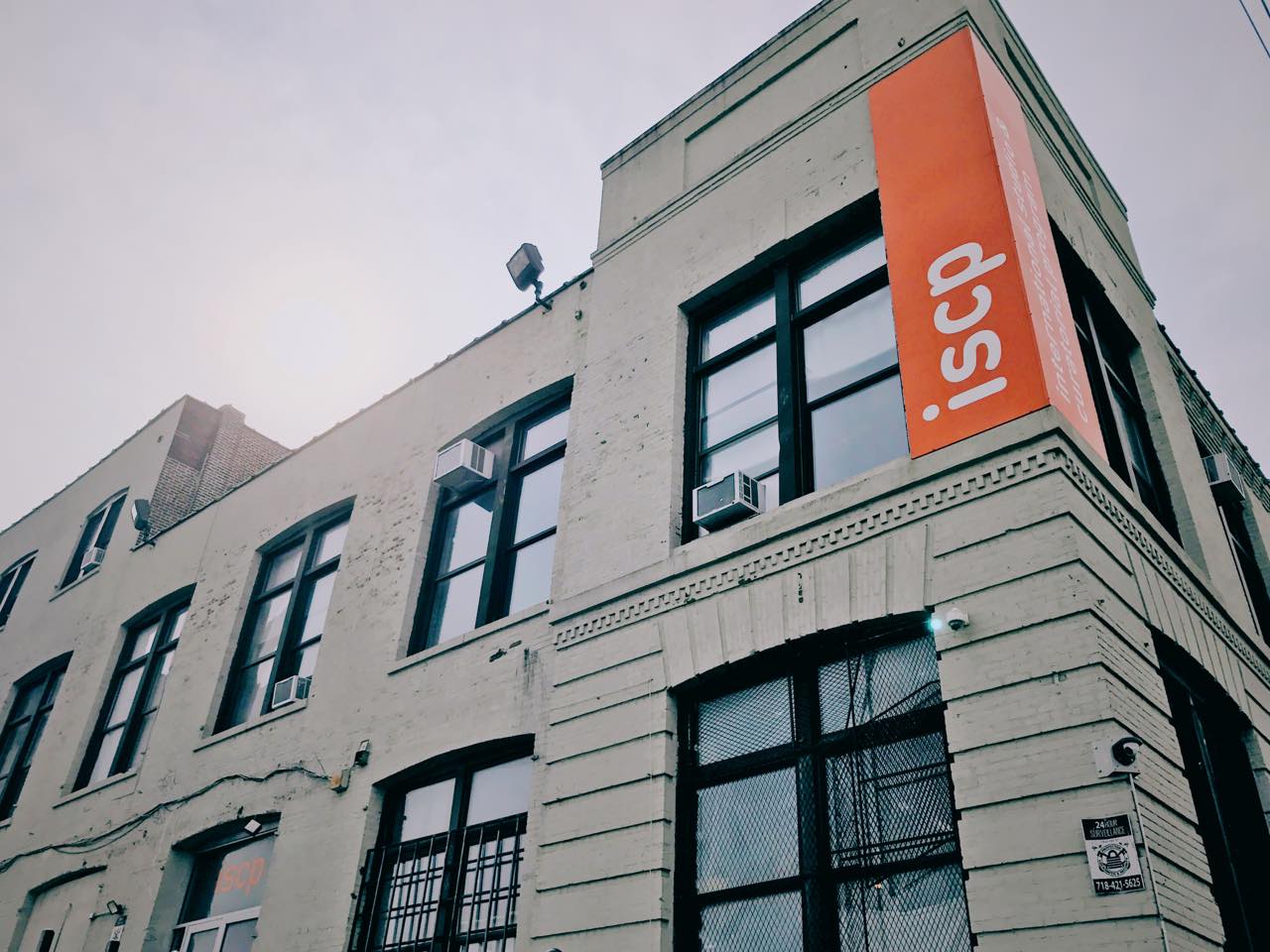 Before visiting the office, we had checked out as many art museums and galleries in the City as possible until our bodies totally worn out. The tour in New York itself was quite good, however, I had a feeling that something was still missing.
Although the series of my hermit crab works represent myself today, the works were not recognized as much back around 2011. In addition, I hadn't had any connections yet with any insiders of the art industry.
Back then in New York, not just nobody recognized me, but also nobody paid any slight attentions to me. It was totally impossible to imagine that opportunities to exhibit my works would come up in galleries we visited, nor that any dreamy "Cinderella Stories" of overnight success in the City's art field could be happening.
A guide of ISCP showed us around the facility didn't seem she was welcoming those "naive" Japanese visitors who speaks very limited English. I don't remember very well, but the guide might have told us "Come back after you've got granted."
(Besides passing examination, you must get some grants to join ISCP. You are not allowed to get into the program with your own cost.)
"Too expensive restaurants" excluded us without mercy, and we had to make ourselves bite just panini on the street. We spoke to each other, "Life is too tough to us!" "Why no one even tries to help us?" The City's well-off people were having dinner inside the tall and wide glass window of a fancy restaurant. We were "The Little Match Girls" in New York, not having any money or any place to be.
It seemed impossible for me not only to live in such expensive city with my own expenses, but also to get any grants to join any artist-in-residence programs of New York. While I was so depressed, just years went by.
---
In 2013, an opportunity knocked. A web media called "designboom" suddenly introduced my hermit crab series in their website. The web article drew attention of the industry to my works. Offers for media placement started coming from all over the world. Following those media exposures, exhibition offers from overseas started popping up.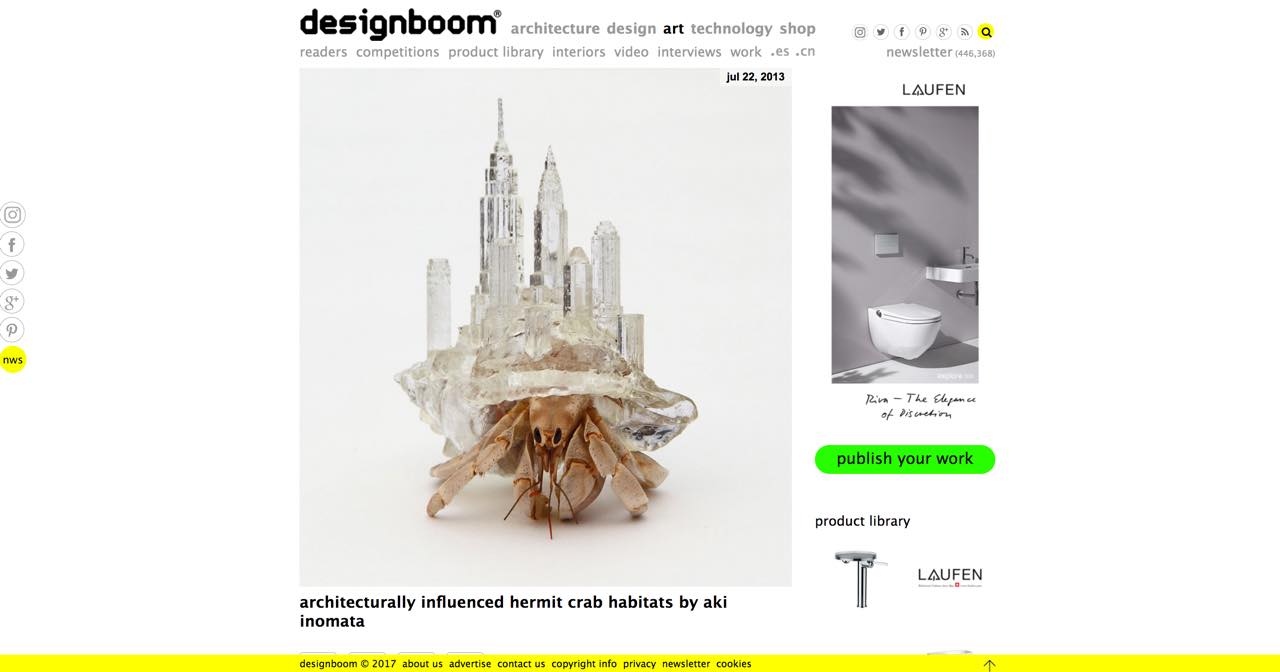 By designboom
It seemed getting better a bit, but I was still not recognized enough in Japan, envying that artists of same generation such as friends from school were getting successful and going far ahead of me.
Receiving Grand Prix in 2014 at YouFab Global Creative Awards became a big turning point. Since I won the award, more exhibition offers in Japan started coming up, and, thankfully, I became too busy to accept all those offers. Furthermore, I was lucked out to meet a wonderful gallerist who I can really rely on, and became to represent her gallery.
---
And now, March 2017, I've got my own studio in ISCP, that once refused me 6 years ago telling me to come back after I got a grant.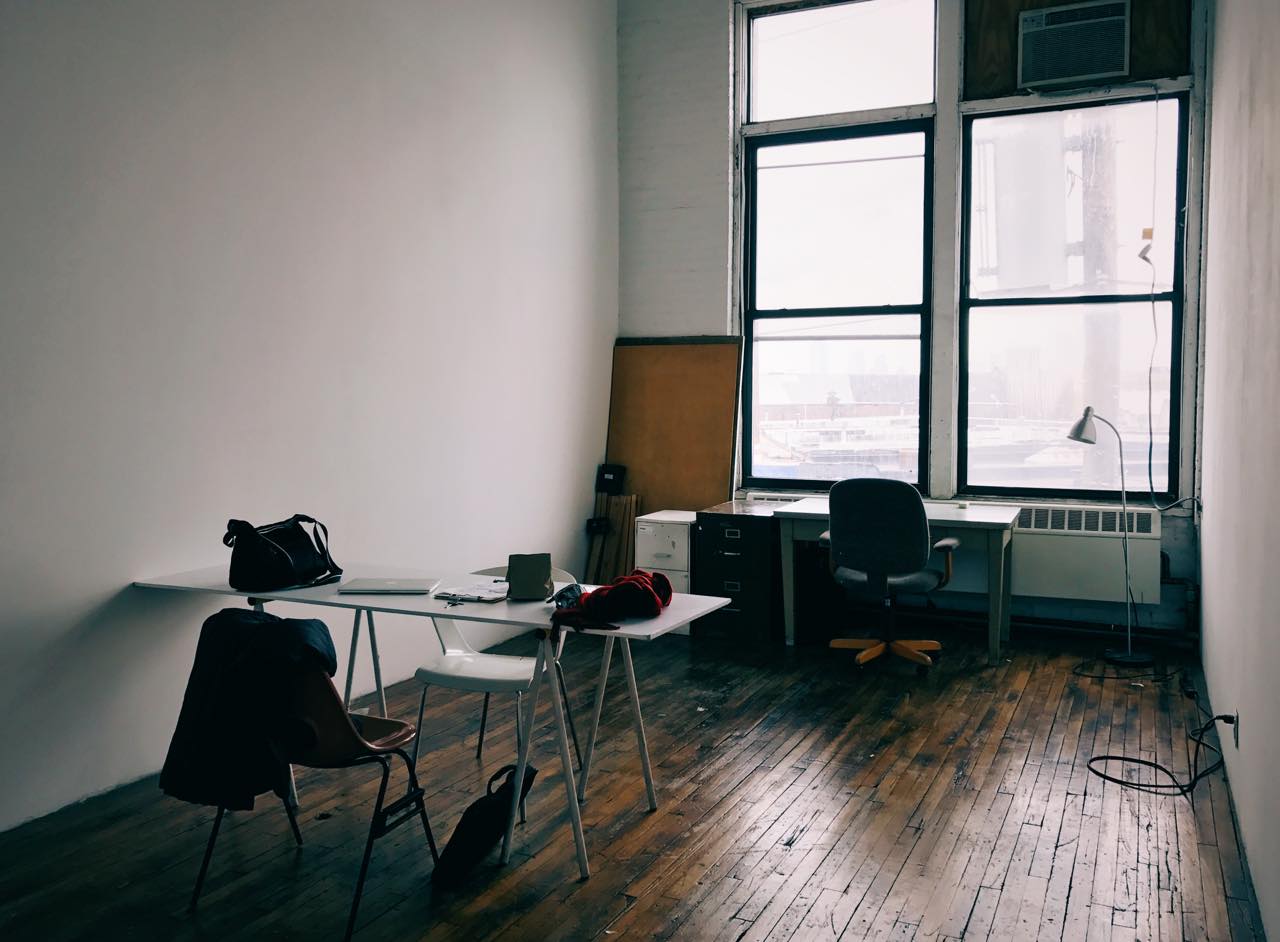 In 2015, I won a grant from ACC (Asian Cultural Council) and was awarded this 3-month stay in New York with ISCP, which I had been longing for a long time as I mentioned above.
The majestic ISCP building is still there exactly as it was in 6 years ago. It is a hard-to-describe feeling that I spend every day in my own studio in ISCP, which used to be too far away from me.
---
Even though I have spent just two weeks so far in New York, I've got a luck to grab a great exhibition opportunity.
Sumesh Sharma, an Indian curator who I met in a party of ACC grantees like myself, asked me to join a group exhibition with three other grantees. The three artists are Tran Minh Duc from Vietnam and Shubho Saha from Bangladesh, both granted by ACC, and Bita Razavi from Finland granted by someone else. It was really "last minute" that I've joined the group!
The venue of the exhibition is Alwan for the Arts in Downtown. Alwan for the Arts is a non-profit art space established to introduce and show Arabic and South Asian art and culture.
Actually Sumesh asked me very casually and easily like "Hey, Aki, you wanna join too?" when we were having lunch together with some other artists.
I was so surprised that it was already less than a week until the opening day of the exhibition!
As long as I know, offers from museums were coming usually more than 1 to 2 years (not weeks) before the opening. From galleries, maybe 6 months to 1.5 years before. Of course I have received last minute offers several times, but still the offers came at least a month before the opening date.
Maybe such "fast pace" is a part of New York's art life, I guess.
---
---
Anyway, I've jumped into the fast flow of New York's art scene and got inspired very much through working with the artists in the group. 
Duc embroidered the words of United States Declaration of Independence on two pieces of bed sheets in two languages, on one sheet in English and the other in Vietnamese. In Vietnam's Declaration of Independence (in 1945 from France), some words and sentences are cited from the US Declaration of Independence.
Duc was inspired with not just the messages on piece and rights in the Vietnamese declaration, but also the "gap" between the histories since the independence of the US and Vietnam.
http://san-art.org/producer/tran-minh-duc/
Shubho spotlighted on the "boundary" that lies between "trash" and "before-trash" to complete a work titled "Trash Eater." The installation work exhibits a vacuum cleaner, trash bags, brown wrapping paper etc. which he picked up in garbage yards. Trash Eater associates people with the relentless cycle of consuming and disposing which is prevailing all over today's consumption society.
http://shubhosaha.com/
These artists were born, raised and lived in totally different backgrounds and environments. It was a great experience for me to see and feel very closely, throughout their exhibits, the difference between their perspectives and recognitions on different social systems.
I believe that getting such insightful experiences is a part of invaluable benefits of living in this exciting city.
---
Reading the stories above, you might say that my stay in New York seems going very smoothly. Actually, it's not such easy.
First of all, everything is so expensive in New York!
One day, at a café in my neighborhood, I ordered an "open sandwich." I was shocked to death that the sandwich cost $18 (about JPY2,000)! Did I pay $18 for such a sandwich of a piece of baguette with avocado and ham, which I could have fixed all by myself in a blink?!
In weekends, the subways are easily stopped or suspended so often. Also, I was so surprised that the day light saving time started on March 12th without any precautions.
Furthermore, it is so tough for me to get used to the "Imperial System," such as inches, yards, feet, pounds, ounces, etc….
I think I had much more annoyances since I moved here, but I already forgot almost of them, because the New York's art scene is too exciting and inspiring for me to remember such small things.
In the next issue, I'm going to write about what I saw in exhibitions, art fairs and also some details on ISCP.
Text by AKI INOMATA(@a_inomata)
AKI INOMATA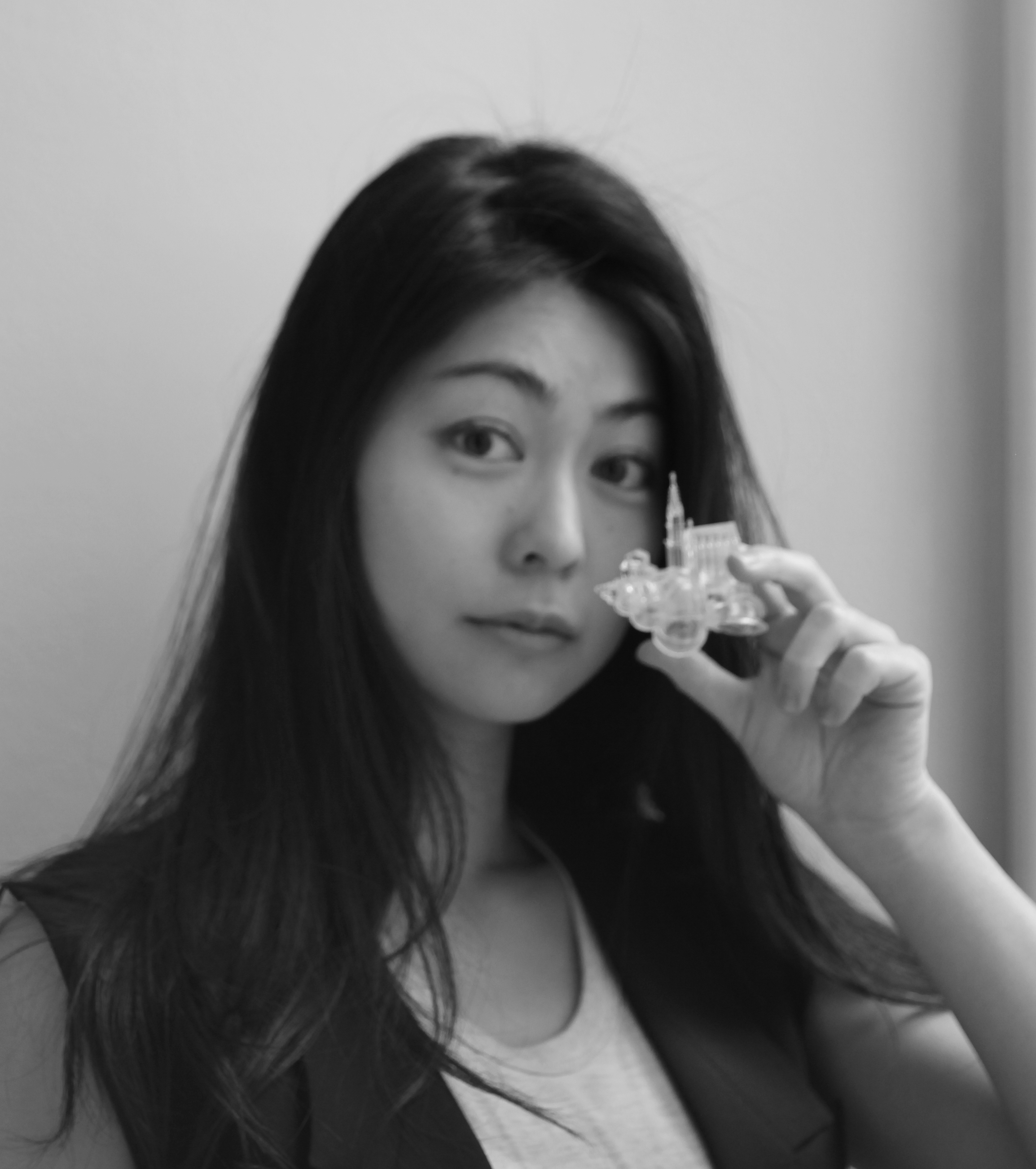 Artist / Part time lecturer at Tama Art University / Visiting researcher at Waseda University Born in Tokyo in 1983, AKI INOMATA graduated with an MFA in Inter Media Art from Tokyo University of the Arts. Lives and works in Tokyo. She received the Grand Prize at the YouFab Global Creative Awards 2014 from Loftwork Inc. She creates her artworks through collaboration with living creatures. Her "Why Not Hand Over a 'Shelter' to Hermit Crabs?" series, in which she gives hermit crabs shells made with a 3D printer, brings to mind migrants, refugees, and their ability to swap nationalities. For "I Wear the Dog's Hair, and the Dog Wears My Hair", she makes herself a cape out of her dog's hair and a smaller cape out of her own hair. Wearing the dog hair cape, the artist has the dog wear the cape made from her hair so that they are wearing each other's coats. Her recent exhibitions include "KENPOKU ART 2016" 6 cities in the northern Ibaraki Prefecture, Japan(2016), ECO EXPANDED CITY 2016" WRO Art Center, Poland, Wroclaw (2016), "Emergencies! 025 : Inter-Nature Communication AKI INOMATA " NTT InterCommunication Center[ICC], Tokyo (2015), "Digital Choc 2015" institut francais du Japon-Tokyo (2015).
Gallery:MAHO KUBOTA GALLERY